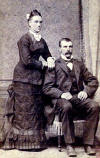 Title
Charles Oscar and Carrie Reinhold's Wedding
Place
Concord, Illinois
Date
September 10, 1979
Description
Charles Reinhold married Carrie Anderson on September 10, 1879 in Concord, Illinois. Charles was 26 years old and Carrie was 29. Their marriage license indicates that they were both born in Pelarne, Sweden. The witnesses to their marriage were Andrew and Anna Lundquist. Anna Lundquist was Carrie's half sister.

Charles Oscar Reinhold, the oldest of Frederick and Johanna Reinhold's children, was born Carl Oscar Enqvist. Charles came to Illinois with his parents in 1869. He was age 16 at the time. Charles became a naturalized citizen at the Bureau County Courthouse in Princeton, Illinois. The name on his immigration petition is Charles O. Reinhold

Carrie Anderson was born Karna Jonsdotter in Krestianstad County, Sweden. Carrie's last name in Sweden was Jonsdotter because her father was Jons Anderson. However, in America, Carrie went by the name Carrie Anderson. No one knows why she chose Carrie as her first name, but her father's last name was Anderson. It is theorized that Karna sounded too Swedish and Carrie is a common American name.