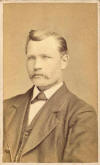 Title
Charles O. Reinhold
Place
Bureau County, Illinois
Date
c.1876
Description
Charles Oscar Reinhold, the oldest of Frederick and Johanna's children, was born Carl Oscar Enqvist on October 27, 1853 in Pelarne parish, Kalmar County Sweden. In 1869, Charles moved from Sweden to Illinois with his parents at the age of 16. In 1870, Charles was confirmed in Princeton, Illinois at the First Lutheran Church. On October 14, 1878, Charles became a naturalized citizen at the Bureau County Courthouse in Princeton, Illinois. The name on his immigration petition is Charles O. Reinhold.

Charles O. Reinhold married Carrie Anderson on September 10, 1879 in Concord, Illinois. He was 26 and she was 29 at the time. All four of their children were born in Bureau County, Illinois.

Charles died at the Peoples Hospital in Independence, Iowa on Sunday morning, June16, 1929 at the age of 75. Cause of death was Chronic Myhritiis.