The photos presented on the following pages introduce you to family lines related to Frederick and Johanna Reinhold and their descendents. These photos introduce you to the Hare, Preston-Fuller and Decker Families who have deep roots in the history of America. However, this collection remains a work in progress. There is much more to show and more to be discovered. Still, we hope that the pictures and information provided will be of interest to family members, genealogists and historians alike.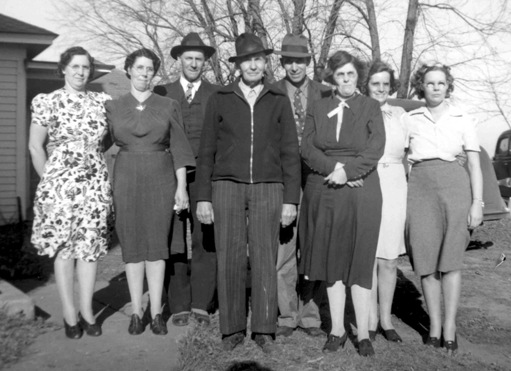 William Henry Decker Family
This Picture was taken the day of Eliza Jane Hare-Decker's funeral.
William & Eliza Decker's daughter, Ella Decker-Miller, passed away prior to this picture being taken.
L to R: Bessie Decker-Rankin, Nora Decker-Reinhold, Harvey Decker, William Henry Decker, Ralph Decker, Stella Decker-Downing, Rosa Decker-Carpenter & Bernice Decker-Siglin