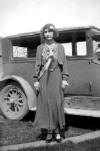 Title
Carrie Lucille Reinhold
Place
Medford, Wisconsin
Date
1932
Description
This photo was taken of Carrie Lucille standing in front of her father's Model T Ford on the family farm.

Carrie Lucille Reinhold was the second child born to Carl Oscar and Nora Reinhold. She was born September 14, 1914 in Oran Township, Fayette County, Iowa. Carl Oscar bought a farm in the Township of Medford, Taylor County, Wisconsin and moved there with his family on March 20, 1920.

Carrie Lucille went by Lucille her entire adult life. She married Clarence Kerns.