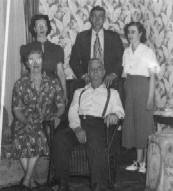 Title
Carl Oscar and Nora Reinhold Family
Place
Medford, Wisconsin
Date
1958
Description
Following the transfer of the family farm to Carl Oliver and Josephine Reinhold, Carl Oscar and Nora retired from farming and moved to a home 1/4 mile north of the Reinhold farm. Their new home was situated on the one acre of property carved out of the 80 acres of property just north of the original Reinhold farm.

This photo was taken in the living room of Carl Oscar and Nora Reinhold's retirement home. All the surviving children were present: Hazel Amelia, Carl Oliver and Carrie Lucille.