The photos presented on the following pages introduce you to the Van Laarhoven, Kummer and Rothamer family lines These photos represent a relatively new family to the history of the United States. This collection remains a work in progress. There is much more to show and more to be discovered. Still, we hope that the pictures and information provided will be of interest to family members, genealogists and historians alike.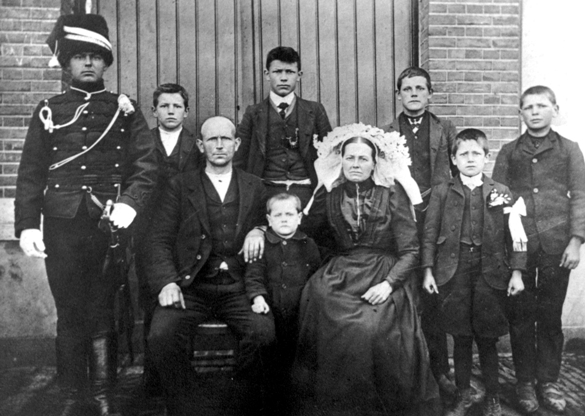 Cornelius Van Laarhoven & Jacoba Wouters-Van Laarhoven Family Picture
At the time this picture was taken, the family members were all immigrants. They immigrated to the United States in 1911 from Stratum, North Brabant, Netherlands. This photo was taken on the day of Crifogonus Ambrosius' First Holy Communion.
Back Row L-R: Peter Anonius Johannes, Antoniius Engelbertus Gregorius, Johannes Godefredus Adrianus, Hendrikus Dometanus, Theodorus Hendricus Marinus Front Row L-R: Cornelius, Johannis Thelesphorus, Jacoba, Crijfogonus Ambrosius Martinus